METALFORMING TOOLS
We manufacture a range of hand-operated metalforming tools and work-holding fixtures to assist the model maker, model engineer, jewellery and craft worker. All tools are manufactured to the highest standards of precision and reliability. In addition to our standard range, listed below, we are able to design and manufacture specialised tools, jigs and fixtures for use by both the hobbyist and professional.
All prices quoted include VAT but please refer to note on HOW TO ORDER page.
RIVET EMBOSSING TOOL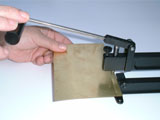 For applying imitation rivet heads to thin sheet metal. Although primarily used by railway modellers to represent bolt and rivet heads on locomotives, the tool is also suitable for embellishing ship, road vehicle and structural models.


MINI FOLDERS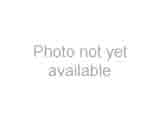 Primarily intended for folding sheet metal where the fold line is etched or engraved (e.g. in model kits). Consists of a pair of heavy steel bars, bolted together at their ends, between which the metal to be folded is gripped.


GUILLOTINE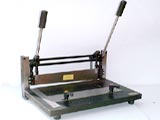 In a single stroke, materials such as thin sheet metal, plastics and card can be accurately cut, without twisting or curling. Perfect for the hobbyist or professional, with its sturdy, yet lightweight construction. The combined clamp and finger guard, together with two-handed operation ensures perfect safety. Blades are reversible for prolonged life.

HAND NIBBLER TOOL

AWAITING PHOTO

A very neat, hand-held tool for nibbling across large areas of sheet metal. Squeezing the handles together causes the central blade to move between two fixed blades. The edges on either side of the cut are not deformed, and the cut (waste) material comes out as a continuous spiral.

Suitable for cutting metal and plastics up to 1,2mm (.048in.) thick, although the maximum capacity can be exceeded when used with softer materials.
A very useful tool for cutting out irregular shapes, or producing large holes (round or rectangular) in sheet metal.

Each cut removes a rectangular section 6mm x 1,6mm. Particularly useful for cutting apertures (e.g. windows).

Can be used on metals and plastics. Maximum capacity in mild steel is 1.2mm (.048in.) thick.
WIRE-FLATTENING TOOL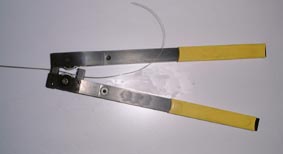 A clever device for squeezing soft wire (brass, silver or copper) into flat strip, which can be used for boiler bands for model locomotives, rain strips and beading for carriages, jewellery making.
WORK-HOLDING TOOLS
DRILLING TABLE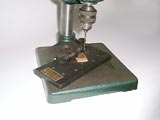 A simple solution to the problem of holding small, thin pieces when drilling. The clamps hold the parts safely and securely, thus eliminating the risk of injury to the fingers.


PROXXON TOOLS
We are importers of the famous PROXXON range of German made power tools and accessories. This excellent range of precision tools will enhance any model-maker's workshop.

Many of the accessories are suitable for stand-alone use, or can be used with several of the machines.

Click here to view the PROXXON COLOUR CALALOGUE

You will need to have Adobe Acrobat ® installed.

Click here for a free download. There is a separate price list.